Fishers High School Tiger Band
Pursuing excellence
Fishers High School, which opened in 2006, is one of two high schools in the Hamilton Southeastern school district in Fishers, Indiana, recently named the best place to live in the United States. Nearly 400 students are enrolled in the Fishers High School Band program, which offers concert bands, jazz bands, percussion class, chamber ensembles, and many popular and successful extracurricular groups such as Marching Band, Pep Band, Jazz Lab Band, Pit Orchestra, Solo & Ensemble, Winter Percussion, and Winter Guard.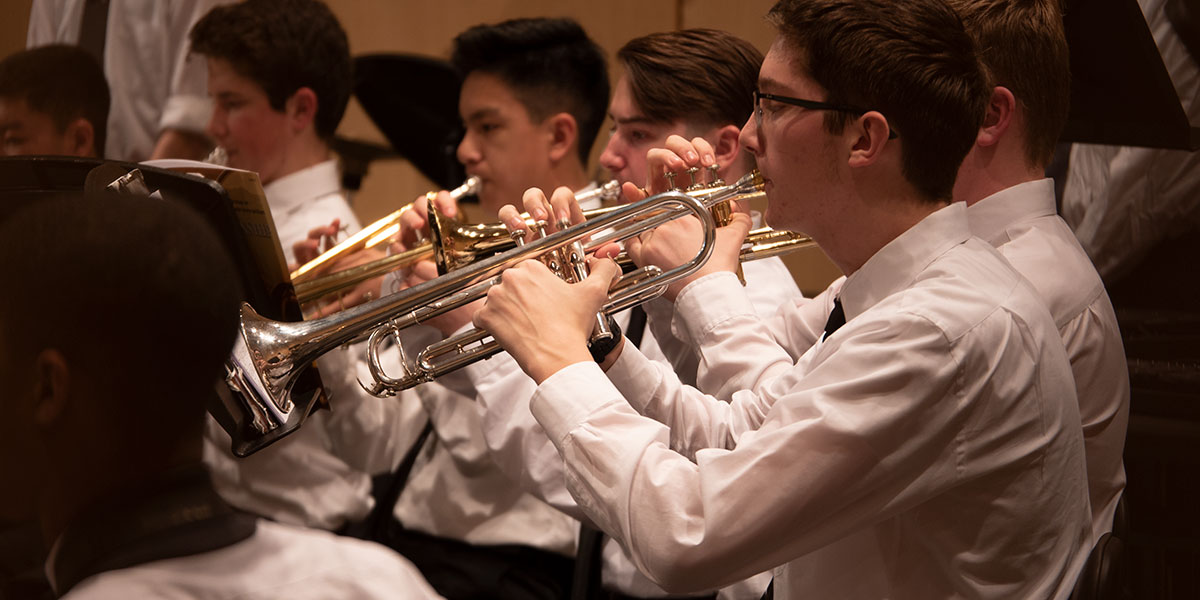 Concert Band
The five Fishers High School concert bands consistently receive Gold and With Distinction ratings at ISSMA Organization Contest. Wind Ensemble has become a consistent Indiana State Finalist.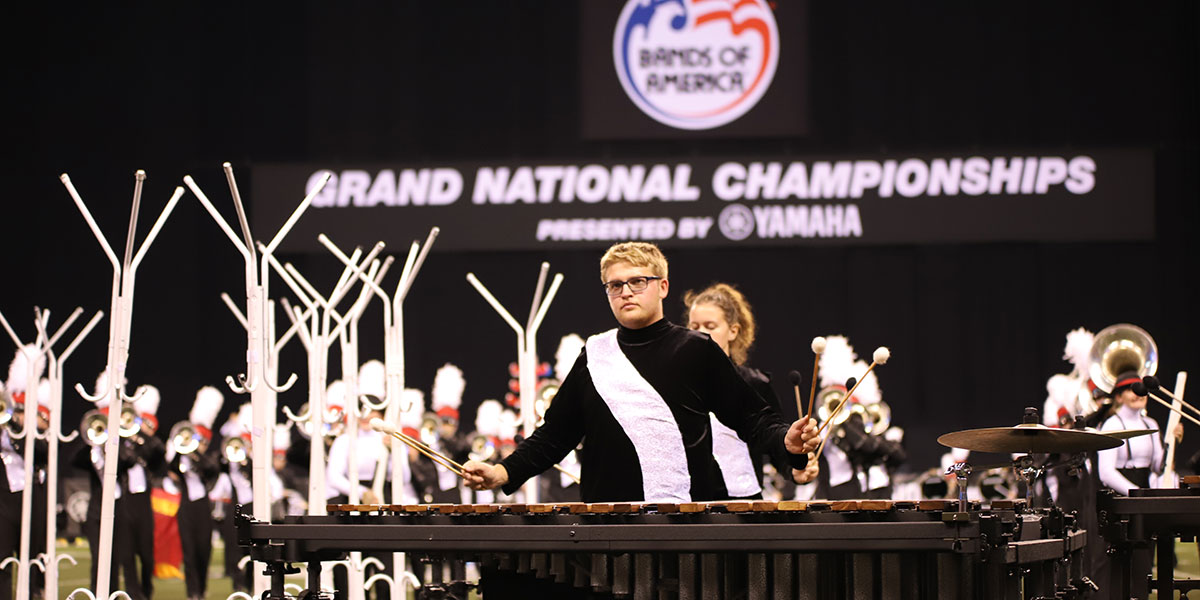 Marching Band
The all-volunteer Marching Tiger Band has been an Indiana State Finalist, BOA Regional and Super-Regional Finalist, and BOA Grand Nationals Semi-Finalist. The Tiger Band has recently performed at the Philadelphia Thanksgiving Day Parade (2015) and the Hollywood Christmas Parade (2017). The band hosts the Fishers Invitational, a very popular marching band contest, drawing bands from all over Indiana and nearby states.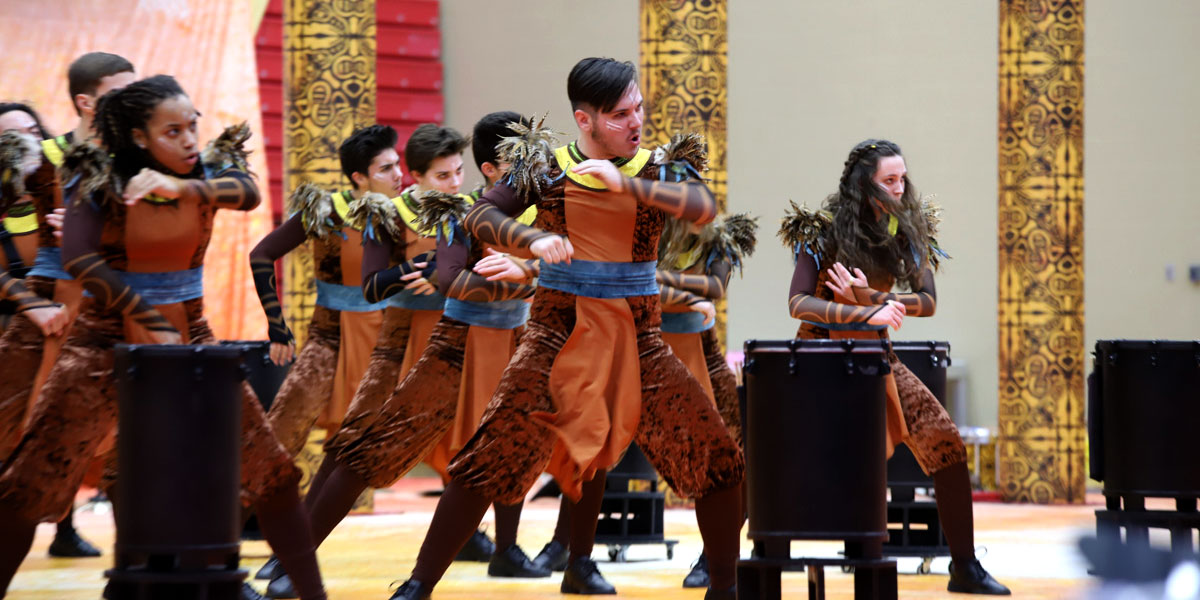 Percussion
Winter Percussion Ensembles have won six Indiana state championships and regularly appear in WGI National Finals. In 2018, the Concert World-class ensemble won the WGI World Championship in Dayton, OH. Members of the band's drum line were also selected to perform with Madonna during her 2012 Super Bowl halftime performance at Lucas Oil Stadium.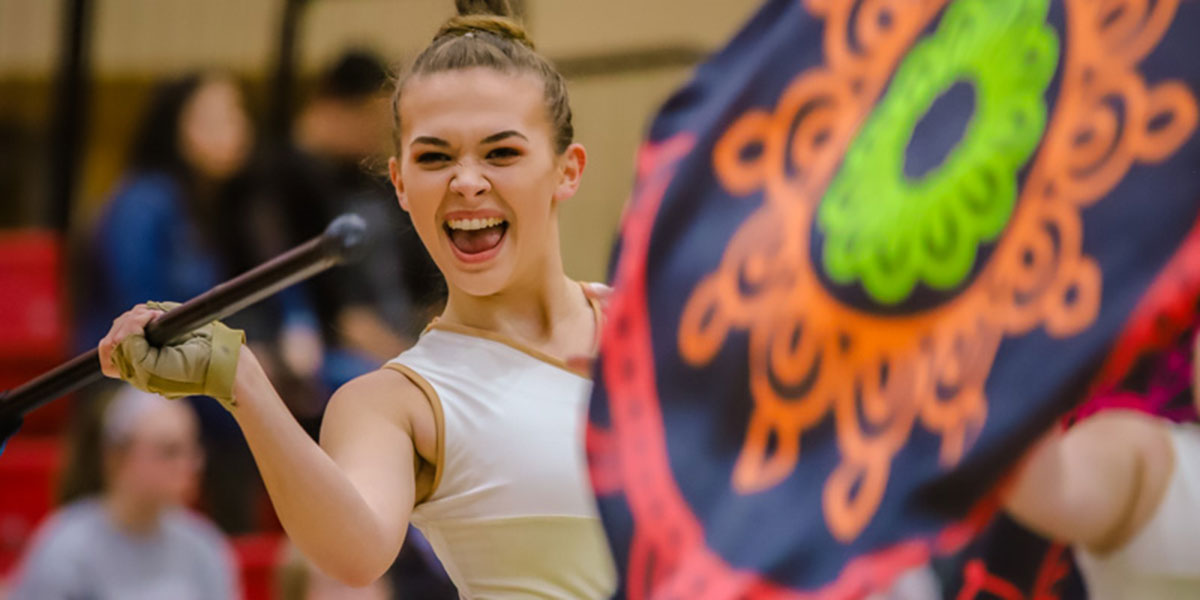 Guard
The Winter Guards have earned state and national recognition, finishing in the top tier of the IHSCGA competitions and WGI National Finals in Open Class.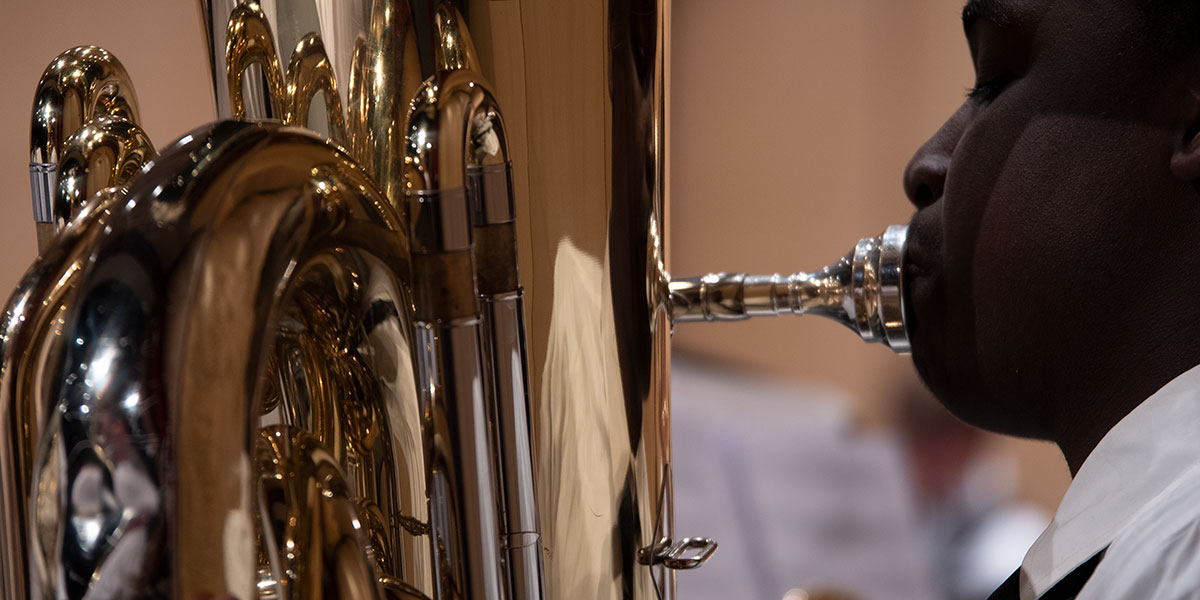 State Solo and Ensemble
Every year, many Fishers band members are selected into prestigious honor ensembles such as All-State Band, All-State Jazz Band, All-State Orchestra, the ISO Side-by-Side program, and the IMEA Honor Concert Band, among others. Hundreds of students perform each year at solo and ensemble competition. Student-led chamber ensembles are very popular, especially from December-February. Many band students at Fishers study privately with various professionals in the Indianapolis area, including from members of the Indianapolis Symphony.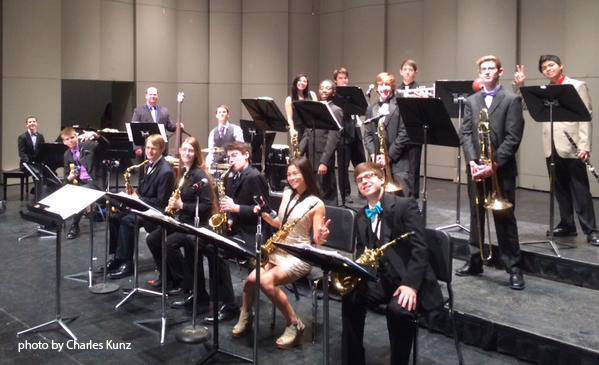 Jazz
The three Jazz Bands at Fishers are high-level performing ensembles that perform at local and area festivals, including our annual Jazz Cafe. Jazz Ensemble meets as a class (by audition only), and includes the traditional instrumentation of trumpet, trombone, saxophone, piano, bass, guitar, drum set, and sometimes additional percussion. Lab bands meet after school two days each week, mostly during the spring semester. The Fishers Jazz Band members have performed with many outstanding world-famous soloists, and received numerous solo awards at festivals.
Music Facts & Figures
Students participating in the Fishers band program are encouraged not only to develop their musical talents, but to pursue academic excellence, as well. As a testament to this goal, 91% of Fishers High School band students are involved in Honors, Advanced Placement or International Baccalaureate classes.
of superintendents say music courses build creativity. ~ Americans for the Arts
of Americans polled believe that music is a key component in a child's well-rounded education. ~ Gallup Poll, "American Attitudes Toward Music
of business leaders say that creativity is the number one skill they are seeking when hiring. ~ Americans for the Arts
Students in elementary schools with superior music education programs scored an average of 21 percent higher on standardized tests. ~ Christopher Johnson, University of Kansas, 2007 study
Nine out of ten adults and teenagers who play instruments agree that music making brings the family closer together. ~ Music Making and Our Schools, American Music Conference
Graduation Rate

90.2%

90.2%

Attendance Rate

93.9%

93.9%
Schools with music programs have an estimated 90.2% graduation rate and 93.9% attendance rate. ~ Americans for the Arts
Fishers Band Staff
Professionals dedicated to inspiring students through music and movement
The Fishers High School band program is overseen by a team of talented directors and staff, who are dedicated to inspiring and motivating students. The band program includes a variety of opportunities for students to pursue their own, personal interest in music, whether it is marching on the field at halftime, swinging on the stage with the jazz band, or playing in the pit supporting one of the school's many theater performances.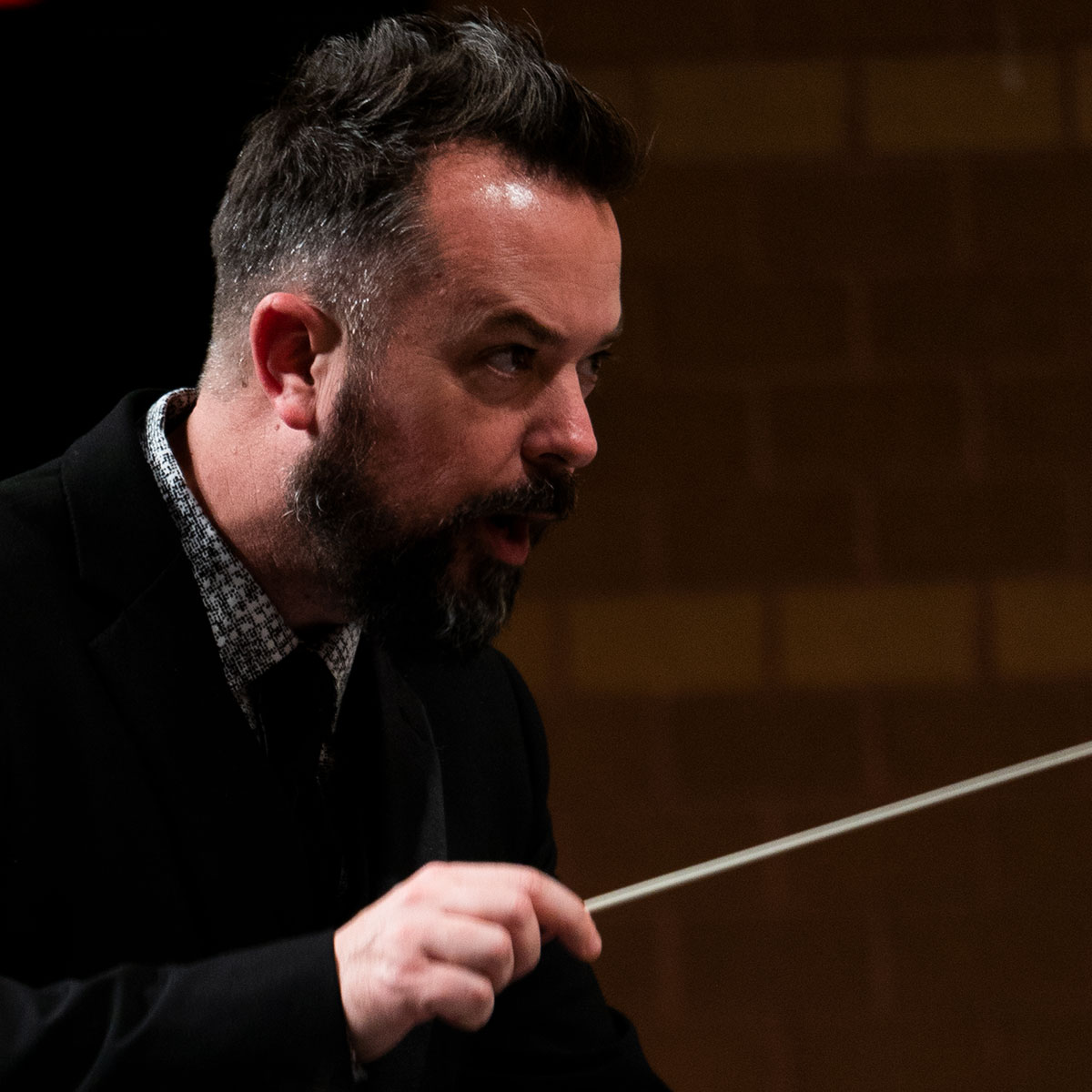 Chad Kohler
Director of Athletic Bands
 Chad Kohler currently serves as the Director of Athletic Bands, including the Tiger Marching Band at Fishers High School where he teaches Concert, Marching Band and Percussion Ensembles. Under Chad's direction his ensembles have received Gold with distinction ratings at ISSMA and the Fishers percussion ensembles have consistently won the Indiana Percussion Association State Championship NINE times and the WGI Concert World National Champion in 2018, 2019 and 2022.Chad received his Bachelors in Music from University of Kentucky and Masters of Music from the University of Akron.
Chad has performed and instructed the Cavaliers Drum and Bugle Corps, served as Percussion Caption Head for the Blue Stars Drum and Bugle Corps and had adjudicated for the Drum Corps activity. In addition, Chad regularly performs throughout the Indianapolis area most consistently with the Nickel Plate Jazz Orchestra and Fishers Wind Symphony. In addition to teaching and performing, Chad composes and arranges for ensembles throughout the Midwest.
Prior to Fishers High School, Chad served as the Percussion Director for Lawrence Central High School. Chad is a sought after composer, arranger and  clinician mainly as a Ludwig/Musser Artist Clinician, a Conn-Selmer Educational Clinician, and Educational Artist with the Remo Corporation and Innovative Percussion. Chad has and currently adjudicated with BOA, IPA, CSJA and MEPA. Chad also serves on the Board of Directors for the Indiana Percussion Association and the Percussive Arts Society and the Percussion Advisory Board for WGI.