ISSMA Regionals
October 13, 2018 @ 8:45 am

-

11:00 pm
Itinerary for the Event
8:45am: Report time @

FHS STUDENTS WEAR BLACK SHIRT FOR REHEARSAL
BRING WILD SHOW SHIRT
MAKE SURE YOU HAVE YOUR BLACK SOCKS (LONG SOCKS!!!! COMPLETELY BLACK AND SHOES FOR REHEARSAL AND THE SHOW!!!
Sound System, drum major ladders, podium and field set up location TBD (field/stadium)

8:55am: Stretch Block set-up
9:00am: Rehearsal Begins (Marching Technique/Body Block) (Music Warm-up) Chunks, Run-through…
11:00am: LONG Sack Snack Break (Bring Your Own)
1:20pm: Run-through
1:30pm: Load Trucks – DINNER PROVIDED – CAFE A
3:00pm: Load Bus
3:10pm: Depart for CENTER GROVE HS – in regular clothes
3:50pm: Arrive/Unload @ CENTER GROVE HS
4:45-5:19pm: Physical Warm-up
5:27-5:51pm: Musical Warm-up
6:05pm: Staging
6:09pm: FISHERS PERFORMANCE (FULL SHOW Mvt's 1, 2 & 3)
6.17pm: AFTER PERFORMANCE – ALL props and equipment return to trucks and bus to load. Students will stay near stadium for awards.
9:32pm: AWARDS
10:00pm: Depart for FHS
10:35pm: Arrive and Unload, CLEAN BAND ROOM, PAGLI AND PERC ROOM – Go Home and sleep 🙂
Important Notes
ISSMA regional competition is the stepping stone to STATE finals. The top 10 bands from each site (north /south) must advance to SEMI-STATE at Ben Davis HS. Then those top 10 bands advance to State Finalist Lucas Oil Stadium on November 3.
Spectators are only allowed to enter the stands between bands and it's important to enter and find a seat as quickly as possible. Please keep all comments positive in the stands, as other bands' fans will be seated all around you! All the bands work very hard and are doing their very best. Stand and cheer for other performances! No shouting individual names or corny things. Keep it upbeat and encouraging for all (AKA classy not trashy)
Video Photography: Due to copyright laws, absolutely no video recording of ANY performances are permitted. Photography at any ISSMA event may be used solely for local media and personal usage. Any sales or distribution of photos or videos from an ISSMA event distributed in a means other than from ISSMA official vendors is strictly prohibited. Admittance to the field is restricted to ISSMA certified photographers and event personnel.
Together, as the unified family of the 2018 Fishers High School Marching TIGER Band, we dedicate ourselves to build upon our firm foundation of excellence in music and motion through integrity, discipline, respect, and trust. We shall focus on the task at hand with a passionate sense of urgency by consistently giving our personal and collective best. We will continually raise the standards of each performer, maximizing the total potential of the group and achieving a sense of success regardless of competitive result. Through cooperation and perseverance, we will achieve unity, excellence, and lasting friendships, ultimately developing the skills necessary for success in band and in life.
ADMISSION
Gates will open one hour prior to the start of Class B. Tickets will be available at the two gates behind the home bleachers (west side of the stadium). Credit cards will also be accepted.
Adults: $7
Students, Seniors, & Preschoolers: $5
Children 2 and under: Free
HANDICAP PARKING
Parking lot south of the high school (from Morgantown Road turn left onto Pennington Drive).
SPECTATOR PARKING
North of high school at Center Grove Middle School Central & Center Grove Elementary:
2455 S. Morgantown Rd, Greenwood, IN 46143
South of high school at The Academy:
2911 S. Morgantown Rd, Greenwood, IN 46143
IMPORTANT TRAFFIC RESTRICTION
Leaving Center Grove you cannot turn left (South) onto SR-37 from Stones Crossing. To get back to SR-37 and head South: Go left (South) on Morgantown Road, at the round-about take the 1st Right onto Whiteland Rd, then at the next round-about take the 1st Right onto 144. This will take you to a stoplight at SR-37.
CONCESSIONS
Will be available in the football stadium and will offer traditional sandwiches, popcorn, snacks, soft drinks, bottled water, etc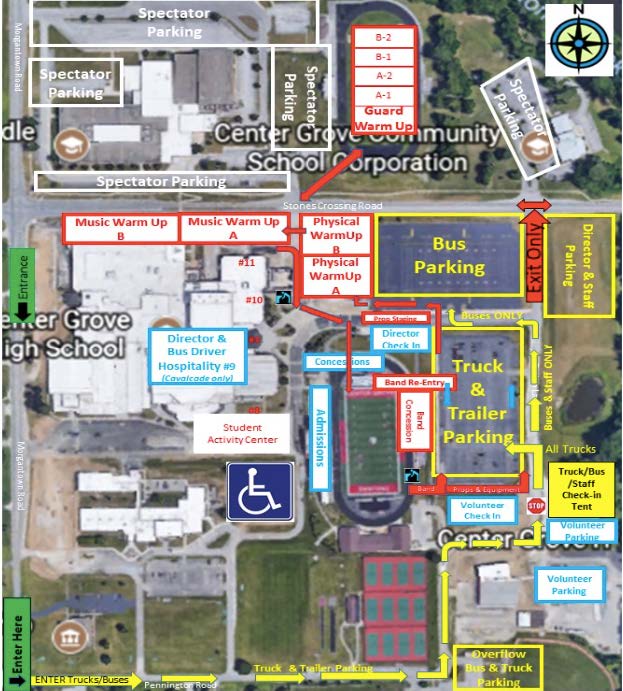 Related Events